Volunteers are at the very core of Candlelighters, and their support allows us to offer many wonderful programs for families affected by childhood cancer
Examples of opportunities include:
·        Office help—this includes tasks such as cutting, printing, laminating, filing, organizing, and the occasional arts and crafts task
·        Event setup—these volunteers help arrange tables, unload supplies, arrange décor, and more
·        Virtual volunteerism —these volunteers pitch in from afar from tasks such as making masks to helping with no contact deliveries
·        Event support – these volunteers keep our events running smoothly doing anything from check in and registration to managing booths to a variety of specialty skills such as photography and stage management
·        Direct service – these are opportunities to work directly with families and kiddos
·        CAMP INDEPENDENT FIREFLY —these volunteers spend a week at Camp Independent Firefly working directly with diagnosed children and their siblings ages 7-17  to give them an amazing week of classic summer camp in a medically safe environment.
Most of the volunteer programming is for adults 18 years and older, although certain events are designed for younger volunteers and family participation. Opportunities are available for groups or organizations. Volunteers will undergo screening and background checks, and trainings will be offered throughout the year.
Interested in becoming a volunteer? Explore this page to learn more or if you're ready to get started, fill out an application! 
---
Interested in Becoming a Volunteer
Already a Volunteer
---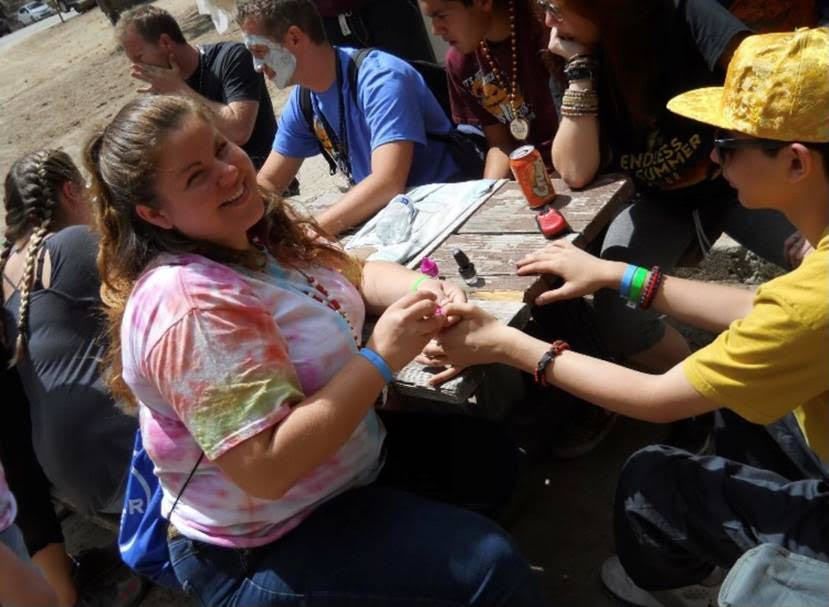 Volunteer Spotlight Summer 2021
Volunteer Name: Amy "Boots" King
Volunteering with Candlelighters Since: 2015
Volunteer Projects with Candlelighters this summer include: Tween Time counselor and Camp Independent Firefly Counselor. Boots logs in to these programs virtually from across the country, spending an hour every week connecting with our kiddos online and leading fun activities for them.
Volunteer Projects with Candlelighters prior to this summer include: Camp Independent Firefly every year since 2015, Superhero 5K
Share a meaningful memory of volunteering: I will always remember my first year at camp. I was just as nervous as some of the kids arriving at Camp Whittle. Whether it was their first year or their 7th, every child that walked down the stairs of the bus looked a little uneasy, a little nervous, but also had a sparkle of excitement to be at the happiest place on earth. I cheered with joy with my fellow counselors in my VELMA costume, spraying the busses with our super soakers, and giving these kids the best entrance to the best week of the year. Then it hit me. I was going to be part of these kids' memories forever. I have this chance to make these kids feel like kids! I have the opportunity to shape how these little humans treat each other and leave their impact on the world. So I did! My co-counselors, campers, and everyone on that mountain had the best week of our lives. We shared smiles, shared genuine connections, and made forever memories. And then, we got to do it AGAIN the next year and what's even better is that the campers that we impacted came back as counselors to make their impact. As much as Camp Independent Firefly does for our kiddos, it does the same for the grown-ups. I am forever grateful and forever a camp counselor!