Jorge Trejo Ibarra - Michael Manteris Scholarship Recipient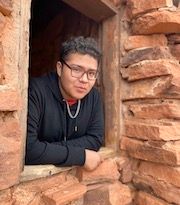 This year's Michael Manteris Scholarship Recipient is Jorge Trejo-Ibarra who will begin his Freshman year at UNLV. Jorge plans to pursue studies in medicine or nursing. Diagnosed with Stage 4 Hodgkin's Lymphoma in November 2018, Jorge has been in remission for over a year and is "feeling hopeful for the future, as unpredictable as it may be."
Among his many accomplishments, Jorge will be the first person in his family to graduate from college. He says that despite the many setbacks and challenges cancer has caused, he has learned, "I am a survivor. Wounded, but not broken. I am done surviving, I feel I'm ready to start living."
He hopes his education coupled with his personal experience will enable him to help others as he was helped.
Congratulations and best of luck, Jorge!
The Michael Manteris Scholarship Award is presented by the Schettler Family Foundation. Michael was diagnosed with AML-Leukemia at the age of 12. After valiantly fighting the disease for five months, Michael's battle with cancer ended on March 31, 2017. The recipient of this award embodies Michael's kind, loving, and compassionate spirit and demonstrates a commitment to caring for others through his/her chosen area of study.