Liz LaMonica ** – Chair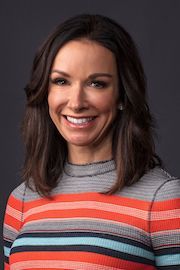 Liz became a Candlelighter's board member in 2009. She was introduced to the organization when her daughter Luci was diagnosed with Leukemia in 2006. Candlelighters was invaluable to her family during that time in many ways.
Now she is proud to contribute to the organization as a parent and share her experience to continue to improve the services we provide.
Luci is now a healthy 23-year-old. Liz and her husband also have a 26-year-old daughter and an 18-year-old son.
Liz is a fitness professional with 25+ years of experience. She is currently a personal trainer, Lululemon Ambassador, and a cycle star at CycleBar. She has an exercise physiology degree from California State Northridge and holds several different certificates in exercise and the surrounding specialties. In her free time, she likes to travel with her family, run, read, and cook.
Fun Facts:
• Liz's daughter Luci, now 23, was treated for leukemia from ages 8-11.
• Liz has been a fitness instructor/personal trainer for 25+ years and loves to run.
• Besides spending time with her family and friends, Liz also loves to read, travel, and cook.