Michael & Chase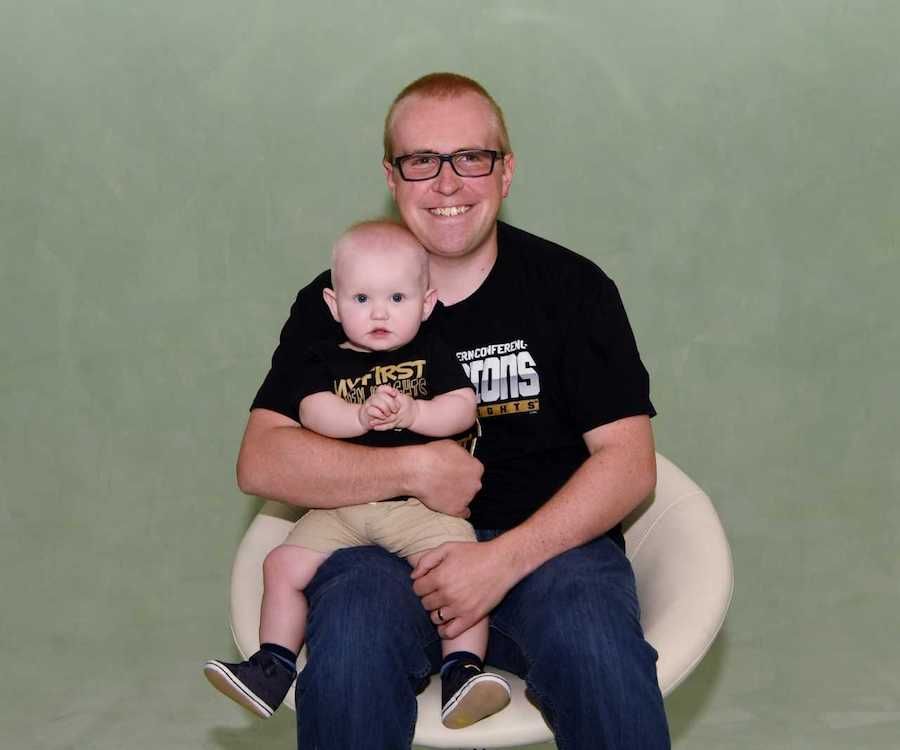 This is the story of Michael and his son Chase.
At only five months old, Michael was diagnosed with retinoblastoma, the same cancer his mother was diagnosed with when she was a little girl. So, when Michael and his wife had their son, Chase, they knew there was a possibility of Michael passing the disease onto him.
"We took him to get screened every month to catch it early in case he was diagnosed, which ended up happening when he was four months old," Michael remembers. "The doctors noticed tumors in Chase's right eye, and everything happened so fast from there. Three hours after he was diagnosed, he was getting chemotherapy."
"Everything shut down when we found out," Michael continued. "We knew the possibility was there, but when it happens to your child, everything changes. You think you are prepared for it, but you really have no idea."
Coincidentally, the same doctor that had treated Michael when he was a baby trained the two doctors that ended up treating Chase at Children's Hospital of Los Angeles. Chase went through three rounds of chemo, with each treatment lasting two days a month for three months, and he is currently going through laser treatments. This was a different treatment than Michael went through, as he ended up doing radiation that left him with limited vision in his left eye.
Michael and his wife made the frequent drives back and forth from Las Vegas to Los Angeles in order for Chase to be treated. "It was draining because your worry kicks into overdrive. One time, he had a bad reaction to the drugs and went into anaphylactic shock. Every time he goes under anesthesia, we know that there are risks. But at the end of the day, you just want the best for your kids."
What made the process easier for Michael and his wife was their son's happy disposition. "He was always smiling and laughing with the nurses. He's a strong little kid. He made it easier to cope."
Another thing that helped them was Candlelighters. "I don't remember interacting with Candlelighters when I was younger, but my mom told me how much they helped us, especially with reimbursing us for travel. I always knew they were a very involved and caring group because they were always checking up on me. So when Chase was diagnosed, we contacted Candlelighters. They came in and started taking care of everything right away."
"You don't realize how hard it is to go through a pediatric cancer diagnosis, how expensive it is to travel back and forth. It is taxing emotionally and physically, but it's an amazing feeling to know somebody has your back. If it weren't for Candlelighters, it would have been so much more of a struggle, and we wouldn't have been able to get the treatment we needed."
For those facing a new pediatric cancer diagnosis, Michael advises to reach out as much as you can. "It feels like you're in it alone, but you're not. There are so many people who are willing to help you. When you are first diagnosed, you think you won't get through it, but there is a lot of help out there and a lot of selfless people."
September 24 will be a day of many celebrations for their family this year. It will be Chase's first birthday, but also an opportunity for his family to celebrate the successful recovery for this sweet little boy.
Photo Credit: Denise Truscello