Latoya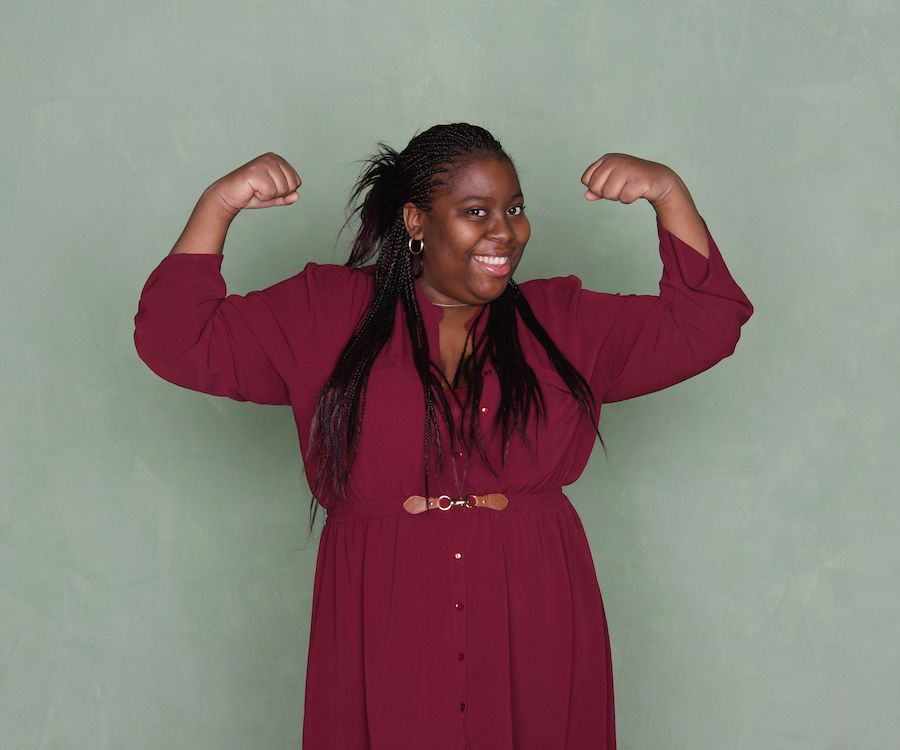 This is the story of Latoya:
At 27-years old Latoya has faced more trauma than most people face in a lifetime. Despite her setbacks, she has also persevered to achieve a great deal.
Diagnosed at 11-years old with acute lymphoblastic leukemia, or ALL, Latoya battled the disease undergoing active treatment for two-and-a-half years. Her mother, Catrina, vividly remembers the fight.
"When the doctors told me she had leukemia, I fell off the stool I was sitting on. I'm a nursing assistant. I felt like I should have caught the signs, but this was just too close to home. They told us they were going to do surgery on her to put a port in her chest and started treatment the following morning. There wasn't even time for a second opinion."
"We had a lot of bumps in the road starting out. If they said something was easy, it was hard. If something was supposed to be hard, it was easy. She went through chemotherapy for two-and-a-half years. We spent every holiday hospitalized. The first year was the hardest. A few times we thought she wouldn't make it because her body would react to certain chemo that just wouldn't agree with her. She had ten rounds of radiation. And, as soon as she was discharged, she then had constant chemo."
Catrina recalls Latoya's high school graduation, where she graduated with high honors and read the senior poem. "We didn't expect her to make it through graduation. And there she was reading the poem. She touched on her journey and left the whole place in tears."
Following graduation, Latoya headed to UNLV where she graduated with a degree in criminal justice. However, Latoya's college career took an unexpected turn.
"She got hit by a drunk driver and had to be cut from the car. She now walks with a bit of a limp. Her left femur was broken. She wanted to be a probation officer, but now she can't pass the agility test. She got so discouraged with the agility test, that she no longer wanted to pursue a career in criminal justice."
"Broken bones sometimes reveal a leukemia diagnosis, so she got a bit panicky with her leukemia from the past; but, everything has been fine. For everything she's been through, she's holding it together. She's had a lot of things going against her."
Not to be set back, Latoya has now turned her focus toward her second passion – art. Currently, she is pursuing a degree in media arts and animation.
"She's so smart. She's always been a perfectionist at her studies. She's always drawn, and now she wants to do cartoons and 3D. Being in Vegas, she sees the video monitors in the casinos, and she's learned to create all of those animations."
Latoya has been through so much, yet has deftly navigated every curve ball life has thrown her. Undoubtedly, her ability to persevere and move forward can be attributed, in part, from the love and support she receives from her large family. Catrina also credits Candlelighters with helping Latoya and their family through the tough times.
"Candlelighters saved our lives. I could never give back what [they] gave to us. The smile [they] put on her face with the programs and activities. We wouldn't have made it. It was too depressing, too stressful. Too overwhelming, period, just to deal. Candlelighters was there on so many levels, with activities, keeping Latoya busy, keeping me busy. Helping her get through it without being depressed and moping and feeling sorry for herself. We wouldn't have made it without these programs."
"It is really, really tough to care for a loved one going through this. Until someone has actually been through it, you can't understand how difficult it is. It has made me a better caregiver because of what I went through with my own child. It has made me a better person. There's no words to describe it. Without Candlelighters, I don't think I could have made it – truly. Latoya wouldn't have made it without them. I can't put words to describe all that they did for us."
Photo Credit: Denise Truscello