Jenny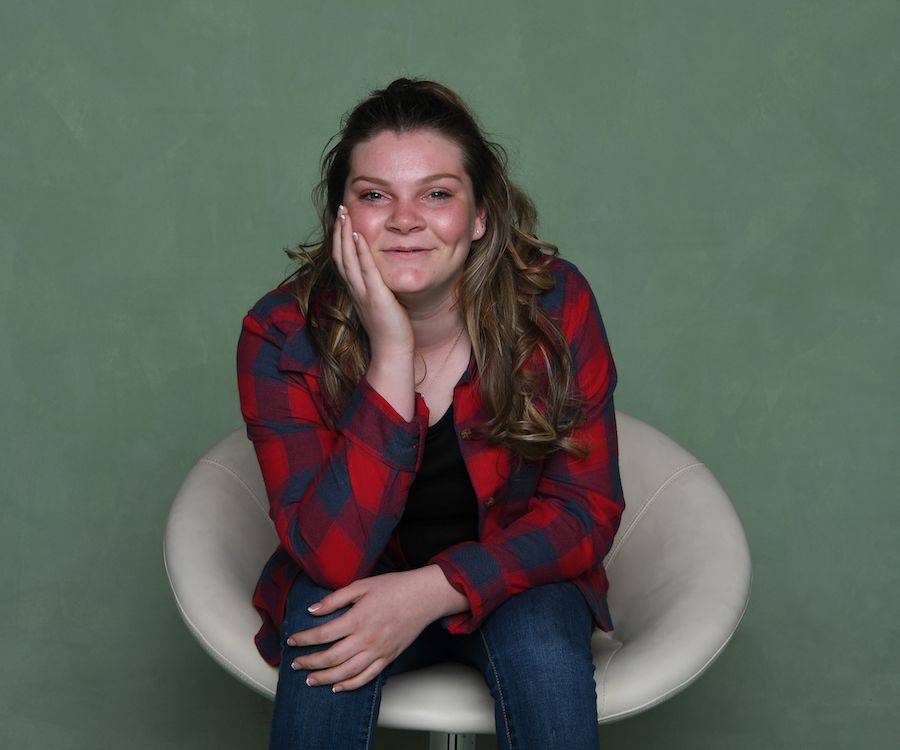 This is the story of Jenny:
Jenny was diagnosed with an aggressive form of leukemia, AML (acute myeloid leukemia), at just ten months old. Her parents vividly remember the night of her diagnosis.
"Jenny kept having colds and respiratory infections, and they just would not get better," Jenny's mom, Christine, remembers. "Finally, we said to the doctors, 'You know this must be something else, it's just not going away.' [We had taken her into the doctor earlier that day for tests] and they called us at 8:00 pm that night. The doctor said she hadn't seen a white blood cell count that low in a child in her 24 years of being a pediatrician."
"The phone rang, and they called and said, 'You need to send Jenny to Sunrise Hospital immediately.' It was August of 2003. And, I knew it was bad," says dad, Rich. "We loaded her up in the car and jetted over there, and we met Dr. Ronald Klein in the waiting area. They took another blood test and finally he came out. He said it appears Jennifer has leukemia and you're not going home, we need to admit her and start treatment right now. I asked what form of leukemia and he said, 'It wasn't ALL, it was AML. AML is more common in adults, and it's more aggressive. Basically, it's the worst of the worst of leukemia, which means Jenny has a very slim chance of survival.' That night we started very aggressive treatment."
Jenny's parents recall the first few months of her harrowing cancer journey. "She was on a ventilator, and she was on an oscillator. We were at Sunrise for 50 days," says Christine.
Rich remembers a particularly frightening night at Sunrise. "They were doing chest compressions on her, and they managed to get her back. She went into cardiac arrest one more time after that, and they brought her back, again. Then she started getting septic, and they notified us that they needed to intubate her. She was like a little turkey; her little stomach was so extended. I started thinking the worst because usually when you're intubated, you don't come out. Her lungs were just full of fluid, and she was not looking any better. I just prayed, and I kept praying, and on the last x-ray, the doctor said it appears Jenny's lungs are clearing up. By that night she was sitting up in the Childlife Room playing. A million prayers were answered. From there we were out of the woods."
Jenny's treatment plan called for a bone marrow transplant. The full family was tested and Jenny's seven-year-old brother, Jeff, was a match. "Jeff was a trooper," says Rich. "They took 16 ounces of bone marrow out of his hips, and he was only seven, that's a lot of marrow."
"Jenny was a year old when she had her transplant," says Christine. "The transplant took, and we were back at home and quarantined for six to eight months. It's like an unbelievable feeling like you're in a dream or a nightmare. I hear people say, 'I don't know how you function with something like that.' But, you do. I don't even know how to explain it. You just take it one day at a time. We took everyone's advice, and whatever was best for her, that's what we did. I can't remember about preparing ourselves. We just did what had to be done."
Rich recalls the kindness of others, including financial donations from his co-workers, that helped the them through Jenny's journey. "I was off work with the police department. I had to go on catastrophic leave to help care for Jenny. So, I would have gone on leave without pay. They put out a department-wide email telling people about our situation and asking if anyone wanted to donate vacation time. They had to shut the site down in 30 minutes because I had vacation time for over a year. That's why I say karma is important. Treat people right, and it comes back to you."
"I remember going to the Candlelighters office to familiarize myself with the research on AML and go over everything with the family services team," says Christine. "At the time, I didn't know the long-standing impact that Candlelighters would have on us. People come and go during the treatment, but Candlelighters was there the whole time. No matter what, from 10 months old until now, Candlelighters was always there whenever we needed them. To meet with other people and family members that were going through the same experience. It would have been even harder on us as a family if Candlelighters hadn't been there to understand what we went through."
"Jenny absolutely loves Candlelighters," says Rich. "Today she's part of Teen Scene. They've impacted all of us – my ex-wife, my new wife, my new kids, our blended family. We all try to go out of our way to help Candlelighters now whenever time permits. It's been a rough ride, but Candlelighters has made it a lot more palatable."
"It's important to know you are not alone. There are people that you can talk to," says Christine. "There are other people you can talk to and other people who have been through it. You can see the success of other families. When Jenny was sick, I met another family whose daughter had what Jenny had. At the time, she was now eight, and I thought to myself, 'Jenny can survive this, too.' To see these other families, it gives you hope."
There is hope. Today, Jenny is a sophomore at Shadow Ridge High School. An active 16-year-old with a vibrant social life participating in lacrosse and ROTC, Jenny also supports Candlelighters when she can.
"Camps are awesome," says Jenny. "Camp Firefly is something I've been going to since I was seven and it has completely changed me because I've gotten to meet new people and experience things that other kids don't get to experience. I am going to go as long as I can and become a counselor. I plan to go into the military, and I want to get a college degree with the military and become an on-base therapist."
Jenny beat the odds and has an opportunity to achieve her dreams, thanks to Candlelighters and the support of so many others who supported them through her journey.
Photo Credit: Denise Truscello