James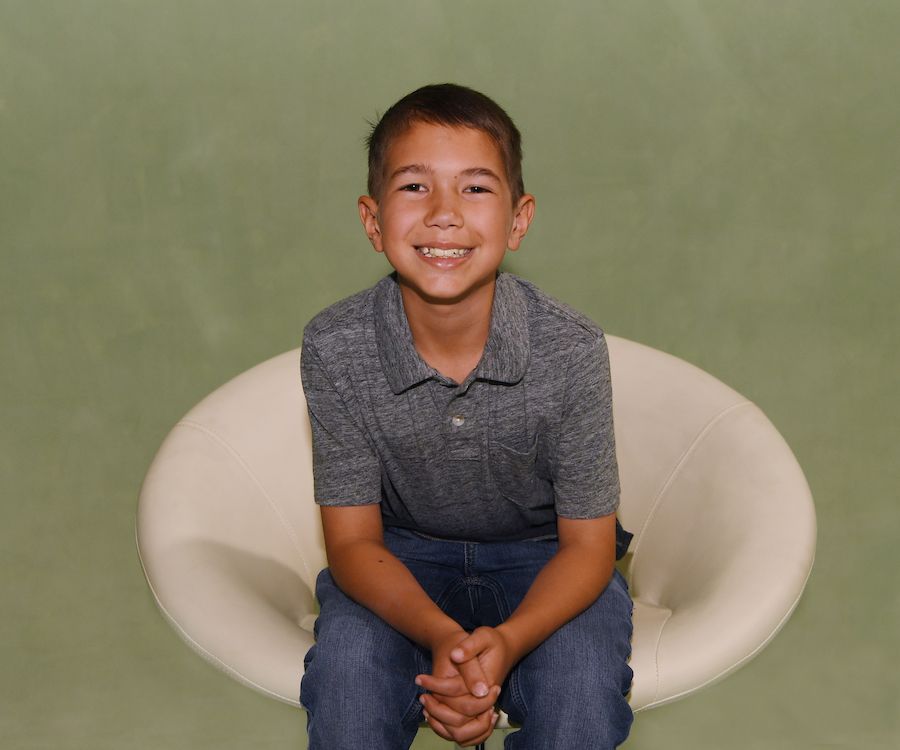 This is the story of James:

"When you were my age, did you think about making your mark on the world?" James recently inquired of his mother, Amy Schildknecht.

It's an extraordinary question from an extraordinary child. At 10-years old, James is wise beyond his years and routinely looks for ways to give back and help others. While his giving nature and indomitable spirit alone are remarkable, his resilience and courage in the face of adversity are truly astonishing.

Two weeks after James turned seven-years-old he complained of a headache to his mother and told her, "Mommy, I need a doctor right now." A trip to the ER led to James being medivacked to UCLA the following day. Two days later, James had brain surgery. He had been diagnosed with stage 4 brain cancer.

Following two brain surgeries, 33 sessions of radiation, and two-and-a-half years of in-patient chemotherapy every other week, James' recovery is nothing short of a miracle. His last treatment was in July of 2017.

James, his mother, and eight-year-old sister, Juliette, don't take their time together for granted. "Every single breath is a gift," says Amy, who helps coach other families battling cancer diagnoses. "Treat your family and your children and everybody else around you in that way. The little things really are little things and aren't anything to worry about. Remember to enjoy the moment."

Amy credits combining the standard care along with a positive mindset and integrative therapies for helping them along James' journey. Despite the severity of his diagnosis and aggressive treatment plan, today James is an active fifth grader. He's back to playing soccer with his peers and, last year was named a National Honor Society student.

Surrounding their family with a loving community and focusing on others also helped James, Amy, and Juliette cope. Candlelighters played a huge role in helping create that community for them. "It's the most loving community you never want to be a part of," says Amy. "Candlelighters is an amazing foundation of support when you don't even know you need the support. They provided a safe place to know that you're not alone and enabled you to meet other families that are going through the same thing. Remembering to do things for other people brought a different light to everything and helped us not to focus on our problems as much."

James shares his mother's selfless spirt. Throughout his journey, James has found ways to encourage and support others. He's turned his love of Legos into a remarkable symbol of strength. James creates Lego brick bracelets to give to others going through difficult times because he says, "The more Legos in the base of a creation, the stronger the foundation and the stronger the support." He also has his own therapy dog, a golden retriever named Zeke, that was gifted to him from a rescue. James is training Zeke to visit kids in the hospital as a way of paying it forward because he so enjoyed visits from therapy dogs while he was recovering. Giving back doesn't stop there for James. He routinely finds ways to support the childhood cancer community and Candlelighters, including serving as an ambassador for this year's Superhero 5K coming up on Saturday, September 15.

It probably comes as no surprise that this old soul wants to be a pastor, and an engineer, when he grows up. In fact, it's possible to catch James preaching now on Facebook Live at what he calls, "The Church of James." He hopes to inspire and impact others with positive messages. He tells people that anything is possible. His mother says, "He wants to change the world."

It seems for the boy who muses about making his mark on the world, incredibly, at just 10-years old, James has already touched so many lives and has already made his mark.

Photo Credit: Denise Truscello