Humberto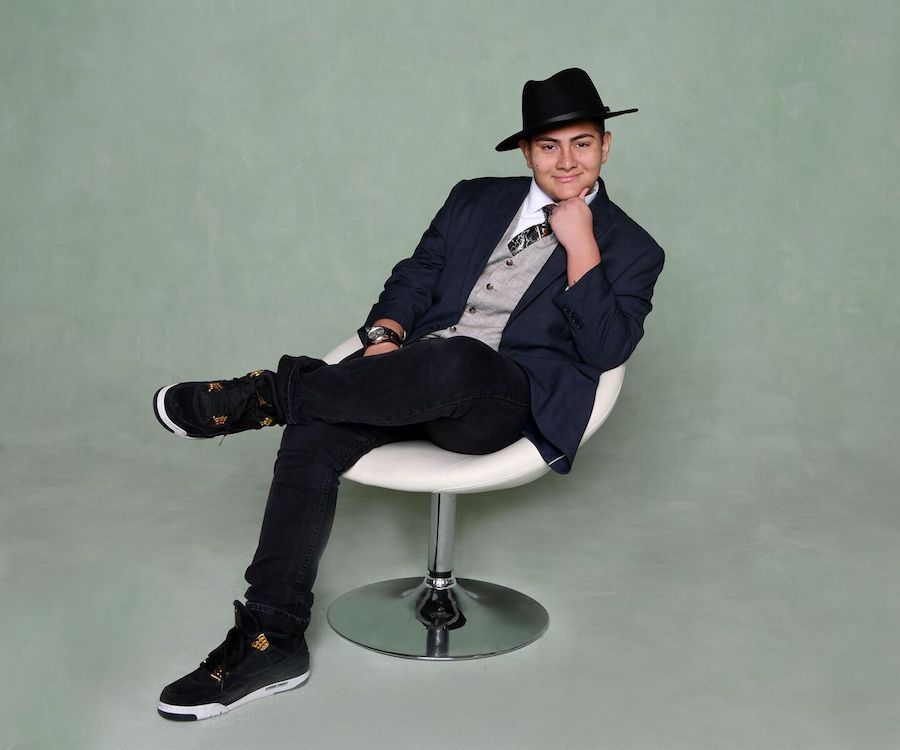 This is the story of Humberto.
Humberto may be one of the sharpest dressed 15-year-olds in Las Vegas. As he waits in the studio for his Forty Faces portrait to be taken, he peers at a photo of Frank Sinatra hanging on the wall in awe. With his fedora, suit and blinged out shoes, Humberto clearly finds fashion inspiration from Sinatra, and, like Sinatra, puts a lot of care into how he presents himself. According to his mother Esmeralda, the soon-to-be Palo Verde High School sophomore takes a lot of pride in wearing his ROTC uniform, making sure that it is pressed and that his shoes are shined properly. He has his mother drive him to get his hair cut every two weeks so that he always looks neat.
But for Esmeralda, she is just happy to have a healthy son. At only 11 months old, after battling a series of ear infections that never seemed to get better, her son was diagnosed with stage four neuroblastoma. The doctors started chemo on Humberto immediately, which lasted eight months. The first four months of treatments were able to reduce the tumor that was on top of his kidney, and after that, he had four additional rounds.
"When they first tried to explain what was going on, I was in shock," Esmeralda recalls. "I didn't know a lot about cancer in babies, and when you hear the word 'cancer,' you just think it's the worst thing."
When asked about what went through her mind when she first heard the news, Esmeralda said that everything just stopped and that it was extremely hard on her family, as they did not have a lot of friends or family in town. "I had to stop working because I was at the hospital with Humberto all the time, and my husband had to work. I remember my daughter being upset because she had to learn to walk to school by herself and didn't understand why her mom was with her brother all the time. It was also extremely difficult for my husband, as he would go to the hospital as soon as he got out of work. His heart was split in two because he wanted to stay with us, but also had to work."
When asked about Candlelighters' impact on her family, Esmeralda said, "Candlelighters has been a big part of our life. They were with us through every month, every year since we started on this journey with Humberto. It gives you a lot of hope. It gives you happiness because you see your kids having fun and they forget about the sickness they are going through."
"I remember Candlelighters coming to the hospital three times a week, and Humberto got so excited every time they were in the room, anticipating what new toys they brought for him that day. I remember Candlelighters providing me with meal tickets while I was at the hospital and my husband not worrying about me as much, because he knew we had support."
One of the first things Humberto did when he completed treatment attended the Halloween party. He also loved camp, and his mother loved seeing videos of him at camp, having fun, running, and singing songs with other campers.
Esmeralda is also grateful for the support Candlelighters provided Humberto's older sister, Nelly, now 20. "Candlelighters saved her life, and her childhood was a lot better because of it. When we started, we didn't have a lot of people around us, and she was having a hard time. When she started going to camp, she was ready to go every year. She made a lot of friends and has memories from every single time she went to camp."
When asked about what advice she would offer other families and children faced with cancer, Esmeralda said, "Never lose your hope. You notice how many people, like Candlelighters, care for kids, who will be with you and do anything to make you happy and forget about what you're going through. And don't forget about your family – as a family, we can now go through anything together. We learned to enjoy our time together, especially the little moments we had at home after chemo. Eat together, talk about what is going on in your lives. We were together as a family through everything."
In addition to participating in ROTC and choir in school, Humberto also recently took on a new role – as big brother to his 20-month-old brother, Leonardo. "It was hard to think about having kids after Humberto. You get afraid that something will go wrong again. But Leonardo changed our lives, and Humberto loves to play with him and even changed his diapers!"
We think that Leonardo may have the best role model in the world – his big brother, Humberto.
Photo Credit: Denise Truscello