Erica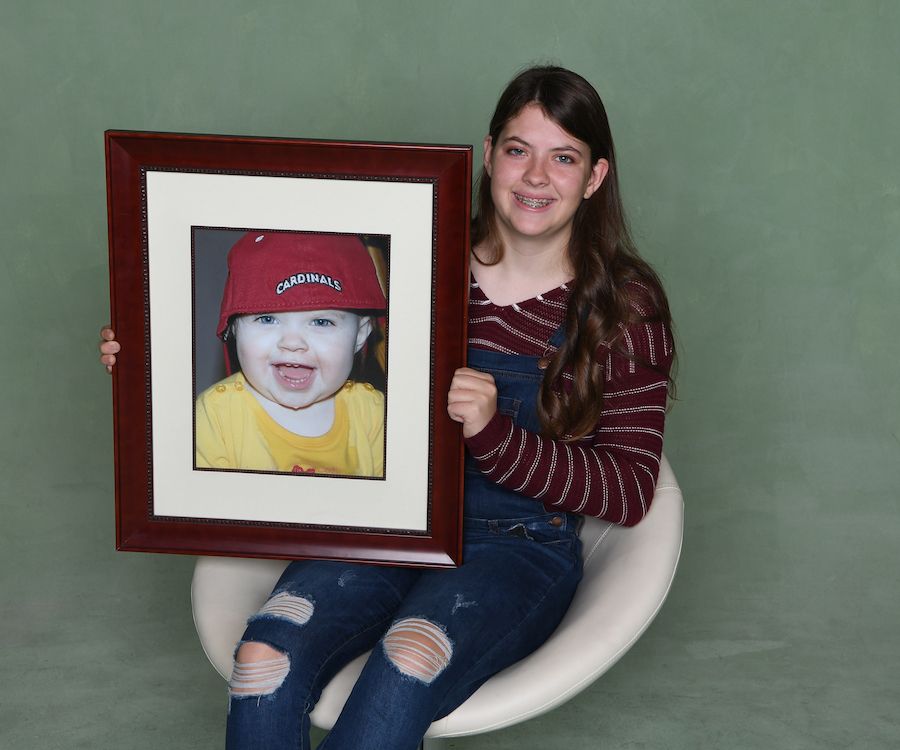 This is the story of Erica:
"You learn things from tragedy."
Erica's mother, Shanna, knows this all too well, for she was able to apply the lessons she gathered supporting Erica's twin sister, Kaitlyn, through her cancer journey to help Erica through her diagnosis.
Identical twins, Erica and Kaitlyn, were born September 17, 2003, joining big brother Cole and soon after that a younger sister, Amy. Kaitlyn was diagnosed with acute lymphoblastic leukemia, or ALL, in September 2005. Just shy of her second birthday.
Shanna says the best advice she received as a parent was from her son's pediatrician. "He told me, 'God gives moms intuition for a reason. And if you feel like something is wrong with your child, don't stop until you find out.' What he always told me, from the time I first met him, was that 'You're a mom and your intuition is my best defense, so don't ever be afraid to tell me something is wrong.' It made me feel empowered. A lot of times we go to doctors, and we think that they know everything. And, they do know a lot, but there are things sometimes that only a mom or dad know and you have to have the confidence to push them to get answers."
"Kaitlyn had a funny bruise. She was the type of child that if she got hurt, I knew she got hurt because she cried. Erica not so much, but Kaitlyn I knew. When I saw a bruise on her thigh, I thought, 'There's no way she hurt herself that bad and I didn't know.'
"Both girls had had ear infections. Two weeks later, Kaitlyn was still pulling at her ear, and Erica was fine. I knew there had to be something going on. I think we were blessed because when I took her to the Quick Care, I got a physician's assistant who really listened to what I was saying. I was concerned about ITP (Idiopathic Thrombocytopenic purpura), and I asked, 'Can you please do some sort of blood work?' And, he said, 'Yeah, no problem. We'll order some blood work. These never come back positive and she's likely fine.' Within four hours they said, 'You need to get Kaitlyn to the hospital.' There is a power that leads us to certain things."
Six months following Kaitlyn's leukemia diagnosis, her cancer journey came to an end on March 5, 2006. She was two-and-a-half years old. A year later, on March 22, 2007, her twin sister, Erica, was diagnosed with ALL.
Shanna remembers receiving the news, "I had taken her sister [Amy] to Dr. Rashid, and she was getting her clean bill of health because she had ITP. We had Erica checked every six months to make sure they were both clear. They had good news and bad news. Amy was perfectly healthy, normal and fine and then she said, 'Erica, on the other hand, has cancer.'"
"Since Erica and Kaitlyn were identical, there was a higher chance of Erica having [ALL] as well. They always told me if we got past 12 months everything would be good. But, since I was there anyway with Amy, they would run the bloodwork for Erica."
"You go into autopilot. Everything sort of just takes over. It was pretty much, 'What do we do because I can't have her treated here.' Kaitlyn passed away not from cancer, but from the side effects of the drug she was given to help her with troubled breathing because she was treated like a normal patient and not treated as a cancer patient."
"We went back to meet with the doctors, and I said I wanted Erica to go to a specialty place. We had done research and decided MD Anderson in Texas was the best place for us to go. The doctors said they would make calls and see if she could get in and they were surprised she got in."
"My first question to the doctors at MD Anderson was, 'Do you treat her as a patient who is having trouble breathing or do you treat her as a cancer patient who is having trouble breathing? They said they would respond to her as a cancer patient first because they're going to respond to the treatments and the therapies different. That's when we knew we were in the right place. Within a couple of weeks, we were in Texas and starting the process."
Shanna says Candlelighters played an instrumental role in Erica's journey. "You saved Erica's life. Because the same thing happened to Erica that happened to Kaitlyn. She got sick here; she started with a fever. I got us on the first flight I could to get to MD Anderson, and Candlelighters helped with everything."
Shanna and Erica were in Texas for eight months. Erica received the standard treatment protocol for leukemia.
"She took it all in stride; she was awesome. I learned from Kaitlyn that they start to have pains in their legs and it hurts to walk and move sometimes. My biggest thing with Erica was that I wanted to make sure she didn't have that same problem. I bought a fold-up trike, and we took it on the plane, and she'd ride through the airport, the hospital, the parking lots to the doctor's office. It helped to keep her mobile and in a lot less pain than Kaitlyn had been in. I remembered the chemotherapy would make it hard to go to the bathroom and that her belly would be bloated. I remembered how inactive she got, and knew we had to give Erica something to help with that and something that was fun. It was a lifesaver. I don't know how we came up with that idea, but we did. You learn things from tragedy."
"When we finally came home, Erica had lost all of her hair. It was a big shock to Cole. The last time Cole saw Kaitlyn, she was bald. I didn't really think anything of it because I had been with Erica quite some time down in Texas with her being bald and it wasn't a big deal to me. But, when we showed up, Cole had a really hard time. We had to have that conversation with him that just because Erica is bald, she is going to be okay. He thought to himself because she was bald, 'Is Erica going to die too?'
"When we returned to Las Vegas, Erica still had to take oral chemotherapy daily. She had her port and chemo for another year and a half. All in all, she had chemotherapy for two years."
Today, Erica is 15 years old. She is a normal teenager, she plays recreational softball and likes to hang out with friends. She also stays involved with Candlelighters through Camp Independent Firefly and Teen Scene.
"Candlelighters anticipated our needs. Sometimes you just don't know what to ask for, so it's good to have that person, that organization, that can start the conversation to say these are the things we can offer, there are things we can do. Anyone going through this, don't hesitate to ask that sort of thing. Candlelighters helped us so much."
Photo Credit: Denise Truscello