Alexa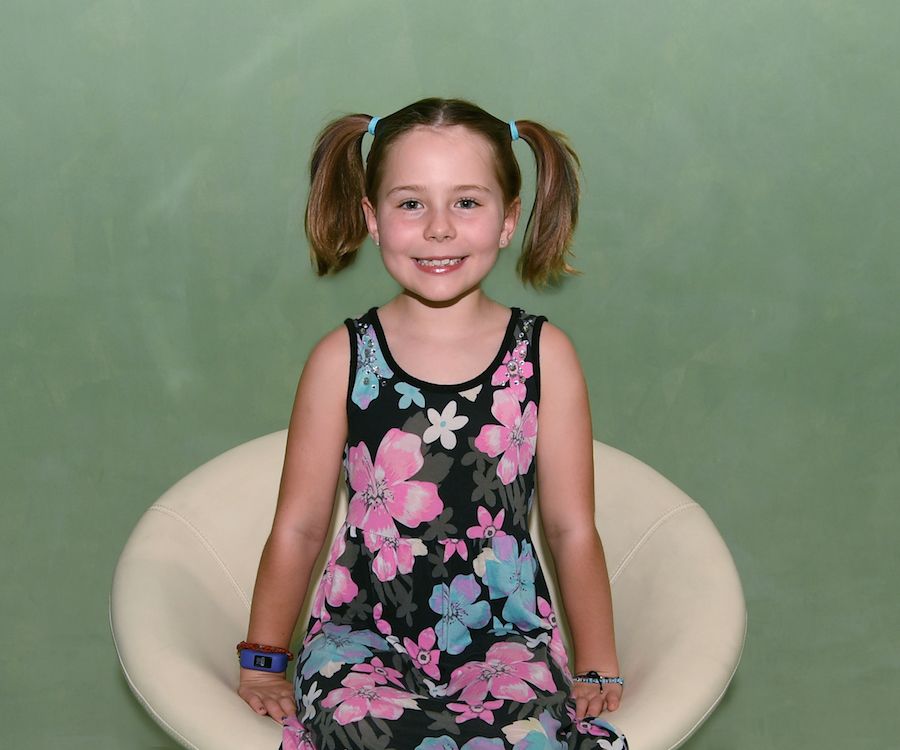 This is the story of Alexa:
A month from now, the Rainbow Unicorns will be suiting up for their third Superhero 5K, the annual fundraising event Candlelighters stages each September. This colorful group will be led by their very own superhero, seven-year-old Alexa.
Nearly three years ago, Alexa was diagnosed with a Wilms tumor, a type of kidney cancer often found in children. Today, Alexa is cancer free. However, her journey to a clean bill of health wasn't easy. Two days after her initial diagnosis in December of 2015, Alexa had kidney surgery to remove the tumor and doctors also discovered some residual spots that had moved up to her lungs. After surgery, Alexa began an initial six weeks of chemotherapy which was followed by an intense care plan that included eight radiation treatments to eradicate the cancer from her lungs.
Alexa's mother, Monica, credits the family's positive attitude to helping make treatments more tolerable. "Our focus was always to keep her entertained and happy. We focused on her, her mental stability, and how best to keep her healthy.
"It's scary, and it doesn't feel good, but we just stayed very positive. And, we would remind ourselves that we're going to get through this, we don't know why we're going through this, but it's our life right now. You can't change it, so we just focused on living our life. When Alexa wanted to go to school, she went to school, and I would stay with her. We let her call the shots, and if she was feeling pretty good, we would do the 'normal' life things, and we would keep doing those 'normal' life things even if we needed to do them from the clinic or hospital. She would still see her friends and stay in touch with everyone. Life changed, but we kept living our life. There wasn't a Plan B."
"Every experience is unique to each family, but we just never did 'Why me, why us?' We had always done everything together as a family, and this wasn't any different. If it was going to be a long day of hanging out, we would decorate her hospital room and bring her toys and games. We're a three-person family, and wherever we are, as long as we're together, it's home. So, we made wherever we were as homey as we could, even when we would go to the clinic."
Focusing on Alexa's mental health helped bolster the her positive outlook, and Candlelighters helped play a role. "Candlelighters would visit with her in the hospital and play Legos or Barbie's with her and put a smile on her face and help keep her distracted. It just made a huge difference, and, it made a difference for us, too, because we needed a break. It was good for her to see a fresh face."
"We also had an art therapist come to our home to work with Alexa," Monica recalls. "The art therapy was incredibly helpful because we needed to make sure she was doing okay emotionally."
Monica says she feels blessed they were able to provide that support for Alexa. "We would see other families with more kids and think that's a more challenging experience. Alexa doesn't have any siblings, and we have flexible jobs with health insurance. You walk the streets, and you don't know what other people are going through. And, you just learn to be thankful and willing to accept help when people want to help."
"We were fortunate. We call ourselves a team. If Alexa wore a mask, we wore a mask. If she couldn't eat before a test, we didn't eat before her test. We're a team, and it was always, 'If you're in this – we're in this.'"
The Alexa's family have passed their positive spirit of determination and togetherness to Alexa, who will lead the Rainbow Unicorns with flare at the Superhero 5K on Saturday, September 15.
"She likes to give back because she knows what it felt like to be in the hospital and to be sick. Every little thing makes an impact."
Photo Credit: Denise Truscello