Alexa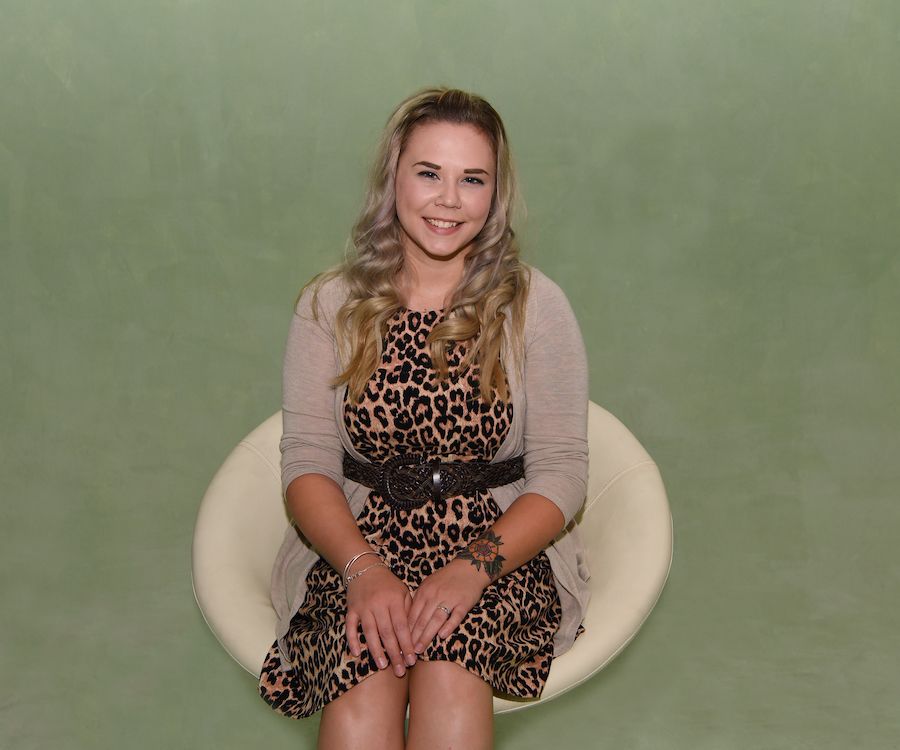 This is the story of Alexa:
The Candlelighters were some of the few people I would let in my room to talk to me," remembers 25-year-old cancer survivor Alexa.
"My journey started in 2005; I was 12 years old. It started with back pain in October of 2005. I was an active kid. I played soccer, and we just thought I pulled a back muscle. We went to the doctor, and they gave us some pain relievers, but by January it was really bad. We went to a bunch of doctors to check it out, and they didn't have anything to say about it. Then my legs started to go numb, and that was the really strange symptom. So, on January 20 we went to the ER, and we got a CAT Scan. That's when they found there was a tumor in my spine and it was pressing on my spinal cord which caused my legs to go numb. They said if I had waited any longer it would have gone into my lungs, and I probably wouldn't have made it. I had Ewing's sarcoma.
"Soon after they discovered the tumor, I met Dr. Bernstein. I had never met a young person with cancer at that point, so I was really uninformed about everything. I immediately associated it with death, and I was like, "I'm going to die." Dr. Bernstein and nurse Catalina Hosmer, who I still talk to, helped me through the process. They told me it was only Stage 1 cancer and the tumor was small. It was just because of where it was that it caused so many problems, so my prognosis was good."
"From that moment on, I believed them because they had listened to me. I knew I was going to live. I never again thought I was going to die. I had this little pocket calendar with me that I could look at and track my days of treatment."
"I had 14 rounds of chemo and radiation therapy that stretched a little over a year. The tumor was gone after the first round of treatment. Chemo was really rough for me. It was really hard. I was bed bound pretty much for the whole year. I was a very sad girl, but I got through it. I had my 13th birthday in the ICU. It was sad."
"Sue Waltermeyer was one of the first people I met with Candlelighters. She was there for my very first round of chemo. When they ran the drugs, and I got really sick, she helped me with visualization and mindfulness. And then Danielle was the regular who would come and bring me things to do."
"I was nauseous for a full year. Chemo takes you away. It's so rough. Mentally, I think, I was really angry. I was already an angry teenager, so cancer just made it worse. I would think, 'Why me?' But, then I got to the point where I thought, 'I fought so hard for my life. I'm not going to live this way and let it define me.'"
"One of the things that helped me the most was the peer connection I had through Candlelighters. I felt really alone. The first peer I met that was sick like me was Aurora Roach. She was a little ahead of me in treatment, and she came into my room and talked to me, and that was a really hopeful moment for me. Once I was well enough to go to camp and meet a whole bunch of kids like me, that was really helpful in my healing."
"Helping my family and me not to feel alone and connecting with other families who have gone through this was everything for us. If you haven't gone through it, it's hard to grasp. Feeling safe during treatment, and knowing that anything we needed financially or emotionally would be taken care of, helped us feel more secure and supported throughout the process."
"Today, I'm 13 years cancer free. I just finished school in July and now have my masters in clinical health counseling and general mental health. I am really interested in working in a hospital setting or with chronically ill patients, maybe even hospice care, because I feel I can relate so deeply to those patients. Each year, me and my partner are counselors at Camp Independent Firefly because we love to help the kids. I am so thankful to everyone at Candlelighters and my doctors for helping me get to where I am today."
Photo Credit: Denise Truscello