Our Commitment to Your Safety
COVID-19 Response
For over forty years, Candlelighters has been a light in the darkness for families in Southern Nevada facing childhood cancer. Even during the COVID-19 pandemic Candlelighters has continued to provide assistance and support to families who have had to navigate through the realities and pain of childhood cancer.
Our office is open to the public. In an effort to ensure the safety and well-being of you, our families, staff, volunteers and the community, we ask that you practice the following safety precautions.
---
Visitor Contact Protocols
We ask visitors to contact us when they arrive, so that they can be escorted by the staff person with whom they are meeting.

No handshake greetings.

Ensure we remain 6 feet apart.

We kindly ask that visitors wear masks while onsite. Masks are available and can be provided, if needed.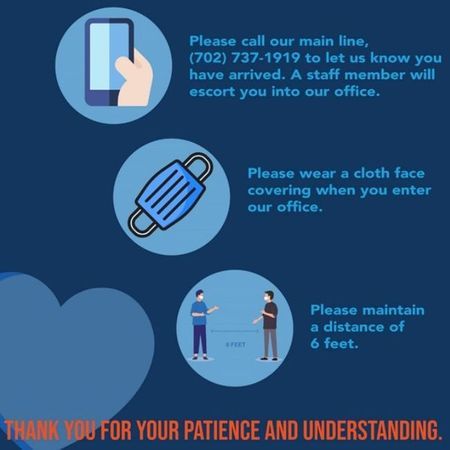 ---
For Staff:
We have implemented a daily wellness check that includes temperature checks with no-contact scanners.

Staff are required to wear masks in common areas and when interacting with others.

Each staff person has participated in a Healthy Workplace training.
---
For Families:
We are committed to providing high quality care and service to you.

As much as possible, we will try to meet your needs by telephone or videoconference.

If in-person meetings are necessary, we strongly encourage making an appointment so we can properly prepare for your visit. Please contact:
---
For Volunteers:
All publicly-held, in-person events are cancelled until further notice.

All office volunteer activities are on an as needed basis and will be evaluated and disseminated by Laurie via email or phone call.

Virtual volunteering opportunities will be posted on our website. To find opportunities please go to make-a-difference/volunteer/virtual-volunteering
For any volunteering questions please contact Laurie at 702.213.8406 or lgillman@candlelightersnv.org
---
For Community Partners and Supporters:
All in-person meetings cancelled until further notice.

We thank you for your support and ongoing commitment. Together, we will weather this uncertainty. Please feel free to reach out to Christina with questions regarding partnerships or donations at 702.213.8404 or jnelson@candlelightersnv.org
---
Cleaning Procedures and Hand Hygiene
Cleaning supplies that comply with the EPA's list of approved products for use against COVID-19 will be used.

The frequency of cleaning services has been increased.

Staff will diligently clean and sanitize common-use areas and frequently touched surfaces throughout the day.

In addition to frequent hand washing, the regular use of hand sanitizer is strongly recommended, particularly when entering or exiting the office space.

Hand sanitizer is available throughout the office