A.J. "Snowball" Patierno - Executive Assistant to CEO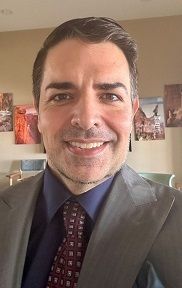 Born and raised in Parsippany, NJ, A.J. Patierno relocated to California to attend USC Film school. After earning his bachelor's degree in 1997 majoring in the Critical Studies of Cinema, would go on to spend the next 20 years as an Executive Assistant in multiple fields of business, including architecture, investment banking, financial management, entertainment, & public relations. A.J assisted the CEOs, CFOs, Vice Presidents and Managing Directors at multiple companies before deciding to relocate to the Summerlin section of Las Vegas.
A.J. believes strongly in the values and work that Candlelighters Childhood Cancer Foundation of Nevada provides families and their children.  His multiple years of experience as an Executive Assistant working in several fields of business has prepared him to join Candlelighters to assist in helping with the hard work and multiple projects that the foundation provides.
A.J. feels extremely honored and blessed to be chosen to be a part of Candlelighters.  It is very rewarding to know the work he accomplishes will help children and families that he cares for very much.
Fun Facts:
A.J. is an animal lover- who enjoys getting as much time to spend with his dog as possible.
When not working, A.J. enjoys spending his time relaxing and enjoying the outdoors.
Although he enjoyed living in Los Angeles very much, Summerlin has become home to A.J. and he is here to stay for the long run.