Jessica "Jazzy" Cuccia - Marketing & Communications Manager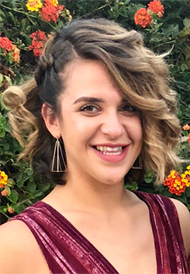 Jessica is our in-office California Girl. New to Candlelighters in 2019, she grew up in Southern California and moved to Las Vegas to join our team after 27 years in her home state. Jessica first volunteered for Candlelighters in 2016 at Camp Independent Firefly, where she was given the camp name "Jazzy". Jazzy has experience marketing in the Mortgage industry but feels at home with Candlelighters after her years volunteering and fundraising for our Superhero 5k three years in a row. 

Jessica joins Candlelighters as the Marketing & Communications Manager, where she is excited to bring her previous professional experience to help serve children diagnosed with cancer and their families.
 
Fun Facts:
• Jessica has a Teacup Poodle (Sophie) who is our office mascot.
• Jessica has a passion for America Sign Language and enjoys learning new signs regularly.
• Jessica enjoys experimenting in the kitchen. She enjoys fermenting, pickling and baking.
Email: jcuccia@candlelightersnv.org