Danielle "Bella" Munao – Family Services Director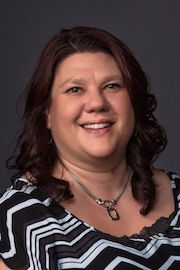 Danielle Munao joined Candlelighters as Family Services Coordinator in 2003. She grew up in Chicago, Illinois, but spent four years in Indiana while attending Ball State University. She graduated in December of 2000 with a Bachelor's of Science degree, with a psychology major. She moved to Las Vegas in 2001 and worked with one other non-profit organization before coming to Candlelighters helping teens overcome such problems as low self-esteem, drug and alcohol addictions.
I have indeed learned a lot from each family that I have had the pleasure of meeting, Danielle said recently. I have gained strength, compassion, and gratitude among other things and I look forward to my continued involvement with our Candlelighters families, both new and old.
Fun Facts:
• Danielle loves butterflies.
• Danielle's favorite color is purple.
• Danielle is a die-hard Chicago fan and loves the Cubs (World Series Champs 2016!!!) and the Bears.
Email: dmunao@candlelightersnv.org