Scott Gragson † – Trustee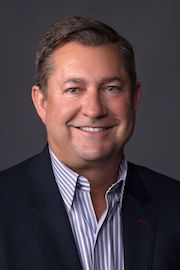 Scott Gragson is Executive Vice President of the Las Vegas Land Division with Colliers International, the third largest commercial real estate firm in the world.
As a second generation land professional in Las Vegas, Mr. Gragson has a vast wealth of knowledge and contacts in the local marketplace.
With over 25 years of Commercial Real Estate expertise, he has sold over $1,000,000,000 in land transactions in his career. His specialty is vacant land acquisition and disposition as well as the assemblage of land parcels. Also, Mr. Gragson has amassed a portfolio of over 4,000 acres in the State of Nevada as managing member of GKT Acquisitions.
Scott is active in the local Chapter of NAIOP and the Urban Land Institute. He currently serves on the Boy Scouts Invitational Golf Committee, Board of Directors for Las Vegas Fire and Rescue Foundation, Hope for Prisoners and the Nevada Power Citizens Advisory Panel and is an active supporter of the Links for Life Foundation.
Fun Facts:
• Scott has 18-year-old boy/girl twins.
• Scott is a second generation Las Vegan.
• Scott likes to travel and likes to hike.