Carrie Bradley - Trustee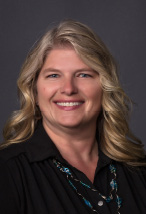 Carrie Bradley has been a resident of Clark County, specifically Henderson, for over 21 years. She has raised both of her children here and enjoys calling the Valley her home. Carrie has a Bachelor of Arts in Business Administration with an emphasis in Accounting. She had worked in the public accounting sector for almost five years before making the change to Credit One Bank. She has been at Credit One Bank for 18 years, and currently holds the role as Vice President of Treasury and Finance. Carrie has thouroughly enjoyed being part of the team driving Credit One's phenomenal growth and success.
Fun Facts:
• Carrie worked in a pea processing plant one summer during college. She picked weeds and caterpillars out of peas as they bounced down the conveyer belt.
• Carrie loves baseball but doesn't have one favorite team.
• Carrie chaperoned 8 to 14-year-old girls for four days in New York City. It was one of the best trips she ever went on.