Avi Dan-Goor - Trustee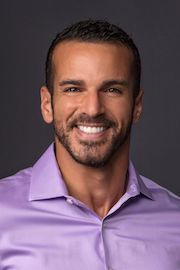 Avi Dan-Goor, Berkshire Hathaway HomeService Nevada Properties' #1 individual sales executive for two years in a row, owes much of his incredible success to his family and his training in the hospitality industry. His concierge-style business model has become a standard of excellence in his Las Vegas-based real estate practice. Whether his clients are buying or selling their first home or their fifth, Avi's elite team handles all the details from start to finish and beyond!
A Lifelong Passion
Since Avi was little, he has been fascinated by buildings and structures especially luxury homes. While growing up in Israel, Avi's father told him, "The smartest and wealthiest people always have real estate in their portfolio." Avi took that to heart and had not only developed a successful career adding properties to his clients' portfolios, but to his own as well.
Avi was first mentored in business by his father, who owned his insurance agency in Israel. "He instilled work ethic, drive, and understanding that my only limits are self-imposed," said Avi. When he started his career, Avi quickly found that, like his father, he was a better business owner than an employee. "I am driven and passionate about my career and know that the sky is the limit for my success."
Path To Success
Among Avi's many skills is his passion for real estate, love of family and kinship to his homeland of Israel. Though he moved to the United States at 18 to pursue his education and professional career, Avi still speaks fluent Hebrew and in fact has many long-term clients from Israel.
Avi holds a business degree in hotel management from the University of Nevada, Las Vegas. He started his professional career in the Las Vegas hospitality industry and became a Las Vegas real estate professional in 2006.
Avi's background in hospitality has given him a unique skill set for his career in real estate. "This business is about two critical things: relationships and details," he said. "I am there every step of the way with my clients because that is what they need. I answer questions, help clarify the negotiations and often counsel them when they aren't sure which decisions to make. Real estate is a very emotional process. It's no coincidence that many of my clients become lifelong friends. We have navigated one of the most stressful things they have done in their lives. It is a bonding experience."
Fun Facts:
• Avi loves to cook and experiment with food.
• Avi loves scary rides, scary movies, and anything that's thrilling like bungee jumping, etc.
• Avi is a dog lover and has two beautiful golden retriever males.